Innovation in a Crisis: with Ryan Clancy and Kaitlyn Abrahall from Scarlet & Grace

Ryan and Kaitlyn, from Scarlet & Grace, inject a sense of lightheartedness and positivity into the way they approach our conversation; even amidst these tumultuous times. However, it is evident that the passion for their business, and commitment to the health of their end consumer, is n o laughing matter. 
This family-owned business has successfully cut through the noise of a saturated marketplace to come up with a range of products that are both beautiful and unique. After spending 4 years on research and development of their luxury homewares (candles and reed diffusers), Scarlet & Grace was launched; and their products are now stocked in lifestyle and gift stores around Australia. "Our jars are designed to be heat resistant, meaning they will never explode or burn your hands", says Kaitlyn.
"Health is of the utmost importance to us, and we source sustainable and natural soy wax for our candles, without nasty chemicals or oils which can impact both us, and the environment." 
In these unprecedented times, Ryan and Kaitlyn have pivoted their business in a way to continue to help the Australian community. Prior to the COVID-19 pandemic, products have been available predominantly to retailers who have stocked the Scarlet & Grace range in their stores. Unfortunately, many of their wholesalers have been forced to close in response to the lockdowns; and while some of these businesses have continued trading online, Ryan and Kaitlyn have had to change tactics and focus on selling directly to consumers. 
One of these tactics has been to utilise current gaps in the marketplace, and develop their own hand sanitiser.
"We saw the limited stock in Supermarket shelves, and decided to create our own blend of fragranced sanitiser, which doesn't smell like Tequila, yet still meets industry standard and kills 99.99% of germs and bacteria", says Ryan. 
Ryan and Kaitlyn have sourced their 80% ethanol sanitiser base from a family-owned business in New South Wales, and are blending it with their famous Scarlet & Grace fragrances. However, a new marketing strategy has been essential, as they are now selling a completely new product to an entirely different marketplace; by shifting their sales focus to the end consumer.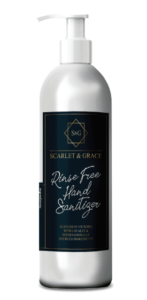 "We have already pre-sold a large number of hand sanitisers to a new audience; and will be focussing our sales to doctors clinics, hospitals, trades, building companies and more. This new clientele have previously struggled to get supply, so having the opportunity to fill this need, whilst still supporting Australian, family-owned, businesses, is really important."
Scarlet & Grace has also created other new opportunities to remain relevant. Given that many of their retailers are no longer in operation, or have changed their trading terms, Ryan and Kaitlyn are now offering drop shipping as a way to alleviate the pressure felt by these small businesses to sell stock. They have utilised technology to improve their internal systems and processes to cope with receiving daily orders from their wholesalers. This means that their stockists can sell Scarlet & Grace products in their eCommerce stores, without physically purchasing or having received the product. Instead, the customer will make an order on their online store, and Ryan, Kaitlyn and their team will send the product directly to the customer, and invoice the stockists.
"We feel it's important to continue to reach out to our stockists via phone or conference call at this time, and do what we can to continue to support them and help them remain in operation", Kaitlyn says. 
"We chose to take the positive from the negative that Coronavirus has brought about, and thought about how we could not only maintain our business, but grow it in these times of demise that a lot of businesses are facing." 
The innovation does not stop here, as Ryan and Kaitlyn were approached by a subscription based online platform during a Trade Show in February. This platform has allowed them to sell Scarlet & Grace products to over 2 million consumers, and as a result, they have sold more products online in the last 4 weeks, than they have over their last 18 months in business. 
The resounding advice offered by Ryan and Kaitlyn is to remain positive, and focus on what you can do. They have used this opportunity to focus on working on their business, rather than in their business, which is something most entrepreneurs struggle to find the time to do. This has allowed them to think about the strategic, long term goals of Scarlet & Grace, and how the team can continue to innovate the business and meet new demands. 
"Coronavirus has forced us all into this uncertain situation, but we are all in this together. We all need businesses to survive and get through this time, so that no family or individual is impacted. So, think about how you can adapt your business model, clientele or offerings to help you get through this." 
---
Apply Now.
Applications for the Startup Gippsland Incubator Program are now open. 
If you have an idea, or are in the early stages of your business with a goal to scale to both national and international markets, then apply now. Through this tough time, you can innovate!