"What the fruit is going on in this world?"
from Angelo Saridis pitch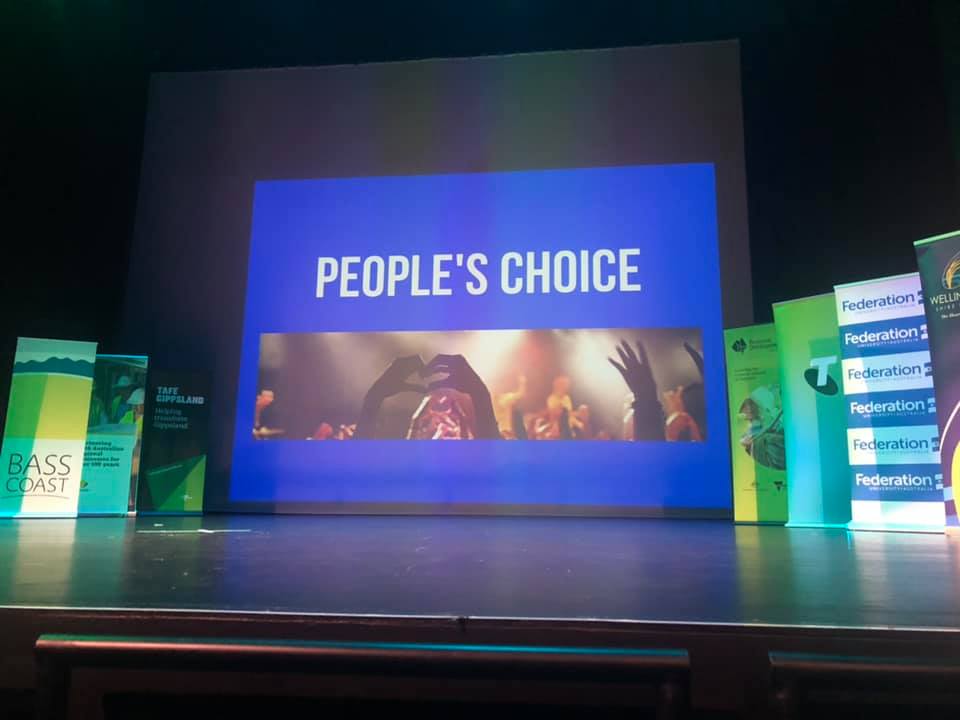 It was only six months ago when our 38 program graduates were pitching their ideas at the Startup Gippsland showcase in June 2019, for the first time in Gippsland and in front of a large audience! Our team was very pleased with what they have all achieved and how well prepared they all were!
Public speaking can be very emotional so we made sure we prepared out startups for this journey. Practice practice and more practice was the motto in the last month before the showcase. The more they practiced, the better they performed at the showcase event. Being able to present on stage, compete with others, control the presentation slides on a giant screen, mic and your breath is a huge achievement to anyone who has ever done it. So congratulations again to all startups who had the courage to undertake this useful 'live' training, one of many on their startup journey!
Developing the skills in public speaking is one of the most useful lessons in life and a smart way to set yourself apart from your competition at various networking and pitching events. So watch our 2019 startup cohort at practice and connect with them on our social media channels. If you have any questions to any of our startup specialists, feel free to comment or send us your question here. 
Tip 1: Emotion, Passion & your T-Shirt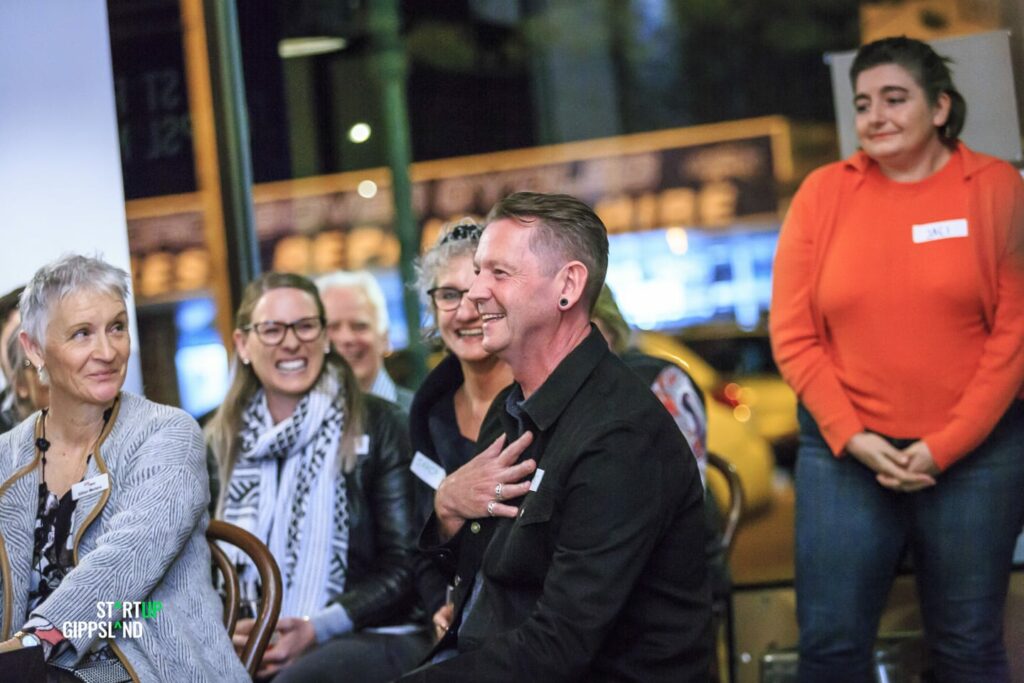 It's hard to step out of your comfort zone and face hundreds of people staring at you, and probably recording you on their phones too! Chris Petrie, UpBeat CAT founder shows you how to stay true to yourself and tune in to your emotions when you're nervous! Also, when you have text in your presentation, make sure that the text is big enough and clear enough to your audience. And wear your website or a logo on your T-Shirt! People will remember you!
Tip 2: Using notes doesn't have to be distracting. Plus state what you need clearly. 
Jane Sahhar from friendie, a Warragul-based luxury athleisure startup nails it in her pitch deck. Tip: slow down and don't use a creased A4 page with scribbled text you can't see – use small posted notes or small sturdy cards, just what Jane used in her presentation, which also involved introducing her new product line easily and efficiently!
Tip 3: Pause… for effect
Easier said than done! Once again, practice makes the master.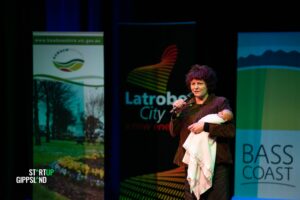 Tip 4: Using props and humour
Kristen Robbins from The Worksheds Alternative has made a great use of her wit and her "metaphorical baby" as she described a plastic baby doll at the beginning of her pitch presentation. This has successfully alleviated her stress and made a quick connection with the audience. Using a prop has an advantage of distracting yourself from your less helpful feelings and diverting the audience's attention from you to the prop. The last line of Kristen's pitch has a powerful phrase cleverly linking the start with the end of her pitch:
"Help me get this baby off the ground"
Her performance won her The Best Social Impact Prize. Watch below.
Similarly that's what Angelo Saridis, founder of Urban Farmland did during his winning startup pitch.
"What the fruit is going on in this world?"
Tip 5: Show them your world
Two of our founders couldn't be there in person, so instead they sent a video of their pitches which we then played on a large screen. Prue Cliff, founder of Avon River Farmhouse near Stratford. Showing your potential investors who you are and where you work can be a powerful audio-visual story telling, which can receive a great audience reaction. You should also record yourself during practice to compare how your efforts develop over time.
There are plenty of pitches to view. Don't miss the 2019 Startup Gippsland winner's pitch, Laura Eddington, founder of Little Bumble. 
---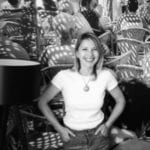 Marketing Manager / Content Producer
Aldona holds a Higher National Diploma in Photography from London Metropolitan University, Cert IV Small Business Management and Diploma in Hospitality & Tourism. As an accomplished photographic artist and arts facilitator, she has worked in digital content creation/marketing for over ten years, including running a coworking space in Ballarat.
Aldona creates and manages creative content including social media management + video production for Startup Gippsland.