Startup Gippsland accelerator program leads Australia
FOR IMMEDIATE RELEASE 2019/06/21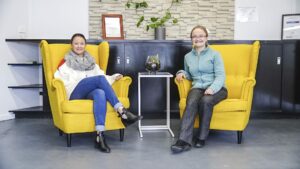 The inaugural Startup Gippsland program has been recognised as an outstanding success. This phenomenal business accelerator program is boosting the burgeoning startup community in Gippsland, a thriving regional area in south-east Victoria.
Startup Gippsland has generated an incredible level of participant engagement with 96 percent of participants completing the program in full and overwhelmingly positive feedback from everyone involved: staff, participants, masterclass experts and coaches have all expanded their business skills and opportunities. Startup Gippsland has shone a spotlight on the talent and vibrancy of the region.
"Great communities build great innovation. The world's most famous startup hubs grew in unexpected locations, where groups of like minded people powerfully came together. As well as supporting each one of the individual participants and mentors taking part in Startup Gippsland, we are building a strong startup community for Gippsland and for regional Australia." Dr Elena Kelareva, Founder and CEO, Gippstech.
Startup Gippsland is auspiced by four of Gippsland's municipal councils, Bass Coast Shire, Baw Baw Shire, Latrobe City and Wellington Shire. Startup Gippsland is funded by LaunchVic, an independent agency established by the Victorian Government to develop the state's startup ecosystem.
"We are incredibly proud of all of the participants in Startup Gippsland, their current and future successes. The 46 businesses are representative of the region's innovative flair and can do mentality. The program is part of our ongoing and increasing commitment to create jobs in the region, support diversity and encourage the burgeoning business network to thrive.
"Gippsland people work hard and they work hard to help each other. The Startup Gippsland program is the best program of its kind operating in Australia today. 46 new business leaders committed to 12 weeks of challenges and sometimes confronting acceleration. 46 mentors gave their time to support Gippsland startups and the region. The program providers from Gippstech went to great lengths to deliver this exceptional program. Celebrating Startup Gippsland is a great way to celebrate our pride in being Gippslanders." Cr Brett Tessari, Mayor of Bass Coast Shire Council, Cr Alan Hall, Mayor of Wellington Shire Council, Cr Mikaela Power, Mayor of Baw Baw Shire Council and Cr Graeme Middlemiss, Mayor of Latrobe City Council.
Startup Gippsland 2019 attracted 113 applicants, all of exceptional quality. The 46 businesses and business ideas cover a kaleidoscope of inventions, innovations and brilliant ideas. There are produce firms showcasing the natural goodness for which Gippsland is famous, physical, mental and holistic health services, education, technology, homeware, pet care and a host of unique service industry solutions.
"We love our participants! Some were already running a small business and the program is giving them the tools and skills to scale. Others were at the ideas stage, with a really great solution to a big problem and we guided them in bringing those ideas into reality." Stephanie Thoo, Program Manager, Startup Gippsland.
The participants include an incredibly diverse field, from those who have already built their businesses and are ready to scale to fresh idea makers who came with a brilliant concept. Unusually for the global startup community, the majority of the participants are female, and there is a broad spectrum of ages including mature participants full of the wisdom of life.
"I've been self employed since I was 24 so that's a long time! I've kind of taken the bush track through my life instead of the highway. I've experienced and thought and observed and felt and now it's about bringing all that together to create this fantastic business. The challenge for me is to create a fabulous, awesome, international business from a small country town." Michele Ripper, Participant, Startup Gippsland
Startup Gippsland has been delivered by Gippstech, a Warragul-based technology and innovation business using the Startup Onramp format which consists of weekly group expert workshops and one on one mentoring, with monthly meetups open to all participants and mentors. The Startup Onramp program gives the participants insight and hands on skills for topics from value proposition and idea validation to branding, PR and customer acquisition, product development, pitching and raising investment and legal basics.
"Having been involved in delivering regional startup programs in more than 20 regions across three Australian states I am delighted with the success of Startup Gippsland. Startup Gippsland is one of the largest and most ambitious regional startup initiatives in Australia today. Supporting almost 50 startups in four cohorts across four regional councils, it is based on an innovative model using simultaneous delivery by videoconference. The Startup Gippsland team have taken a positive stance on diversity and inclusion. This is a flagship program for Australian regional startup initiatives." Colin Kinner, Founder, Startup Onramp
Using a powerful combination of technology and staff dedication the Startup Gippsland team have brought business acceleration to some of the most remote areas of Victoria. Each week team members travel 500km to deliver the program face to face in locations around the 17,000 km2 catchment area.
"We brought the program to the participants, holding weekly events in Warragul, Sale, Wonthaggi and Traralgon as well as additional activities from Inverloch to Churchill. Startup Gippsland empowers participants to scale their businesses to national and even global success, right from their hometowns. With the smart use of technology businesses are able to operate from any location; our participants have been actively engaged in using technology to interact throughout the program, building skills that they are now applying as they transform their businesses unfettered by concerns around distance." Dr Elena Kelareva, Founder and CEO, GippsTech
Startup Gippsland is leading Australia in its commitment to supporting regional communities and businesses. The four councils areas cover from the cliffs and beaches of the Bass Coast to the farms and mountains of Baw Baw Shire, La Trobe's traditionally industrial towns and the immense Shire of Wellington.
"At LaunchVic we are here for the big, ambitious ideas and the people willing to take a chance on them, we are here for the movers, shakers and barrier-breakers behind every successful startup, and we are here for our state. Startups are amongst the largest contributors to job creation in Australia, significantly growing their contribution to the Australian economy over the last five years.
97 percent of Victorian startups are based the Melbourne CBD – so our focus is to expand the opportunities for startups to be created anywhere in Victoria with the right support and ecosystem. Startup Gippsland epitomises the excitement and power that a great startup community creates, delivering economic and cultural benefits for both Victoria and Australia." Dr Kate Cornick, CEO, LaunchVic
One of the key challenges and successes of the program was to pair each participant with a mentor who would challenge them and help them to build their start up. The mentors ranged from highly experienced serial entrepreneurs and business start up veterans to local business owners. While the mentors joined the program for altruistic reasons, they quickly found unexpected benefits for personal and business development.
"As I am only early in my own entrepreneurial journey, I was initially concerned that I couldn't add value or provide guidance to someone who was looking for advice. However, I found that Startup Gippsland was structured so that my mentee got all the advice and facts she needed from the program. Through our mentoring we explored her journey and challenged beliefs. I was able to provide a sounding board and critical feedback. Being a mentor has also highlighted some areas of my own limitations and helped me grow in my business." Shannon Davies, Startup Gippsland Mentor, Director, SD Planning
Exposing the mentors, masterclass experts and sponsors to the Gippsland startup community allowed them to experience first hand the vibrancy and potential of the region.
"I can't believe I'm saying this but I'm considering moving back to Morwell!" Anthony Mayer, Startup Gippsland Mentor, Serial Entrepreneur, Founder, Online is Easy
FOR FURTHER INFORMATION AND HIGH RESOLUTION IMAGERY PLEASE CONTACT:
Aldona Kmiec aldona[at]gipps.tech